We're family
The ASU School of Social Work has more than 10,000 alumni worldwide. Stay in touch with us and our extended network of professionals dedicated to helping those in need.
Read more about our alumni: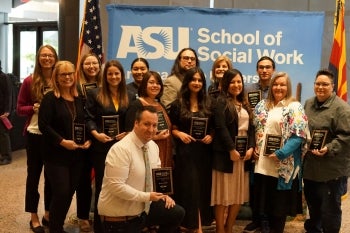 ASU honors 13 individuals, 3 community organizations with Social Work Month Awards
Arizona Gov. Katie Hobbs joined leaders of Arizona State University's School of Social Work to pay tribute to students, faculty, staff, alumni and community organizations at the school's annual Social Work Month Awards.
Honor, tradition inspire participants in Pat's Run
For Tillman Scholar Chad Waltz, the 4.2-mile run is a place where he gets to be with 30,000 of his closest friends, family and Sun Devil fans alike.
Tucson social work alumna receives promotion
Cathy Busha, an alumna of the social work program in Tucson, has been named associate dean for student engagement at Lewis & Clark College. 
Tucson classroom dedicated in honor of social work alumnus
Arizona State University's Tucson campus recently dedicated a new classroom in honor of Gabe Zimmerman. 
Social work faculty, alumni elected to NASW board
Alumnae Angela Schultz will serve as secretary, and alumni Shannon Rich, Jessica Begay, Victoria Ramirez and Deborah Nelson will serve as branch representatives throughout the state. 
ASU alumni, staff win silver in international outrigger competition
Anne Cook, who received her bachelor's and master's degrees in social work at ASU was part of a seven-member team that brought home a silver medal in the International Va'a Federation Outrigger World Sprint Championship.