Office of Gender-Based Violence
What is Intimate Partner Violence?
Intimate Partner Violence, also known as Domestic Violence, is the willful intimidation, physical assault, battery, sexual assault and/or other abusive behavior as part of a systematic pattern of power and control perpetrated by one intimate partner against another.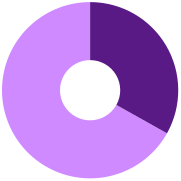 One-third of women in the U.S. are the victims of domestic violence in their lifetimes
Domestic violence is prevalent in every community, and affects all people regardless of age, socio-economic status, sexual orientation, gender, race religion, or nationality. The devastating consequences of domestic violence, including physical injury, mental trauma, and financial difficulties, can cross generations and last a lifetime.
In the United States, an average of 20 people experience intimate partner physical violence every minute.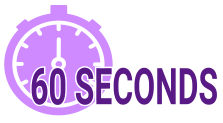 In Arizona, one or more children witness a domestic violence incident every 44 minutes.
In Arizona, about thirty people every year are killed by a current or former intimate partner (ACESDV). Unfortunately, others are often killed in these incidents, such as children, family, and bystanders. Between 2005 and 2015 there were 376 homicide incidents related to intimate partner violence in Arizona which claimed the lives of 553 people (ACESDV, 2016).
Nationally, intimate partner homicide represents about a third of all homicides. While people of all genders are killed by an intimate partner, women are much more likely to be killed by a current or former intimate partner than men; about 5-8% of male victims of homicide are killed by a current or former intimate partner compared to about 40-50% of female victims.
Together with the Arizona Coalition to End Sexual and Domestic Violence (ACESDV), the Office of Gender-Based Violence is gathering data regarding Intimate Partner Homicide in the state of Arizona.
This study aims to raise awareness of the high rates of Intimate Partner Homicide, provide an accurate count of homicides in Arizona, evaluate risk factors leading to homicide, and develop methods for a national study.
Arizona's rate of women killed by men is consistently higher than the national average.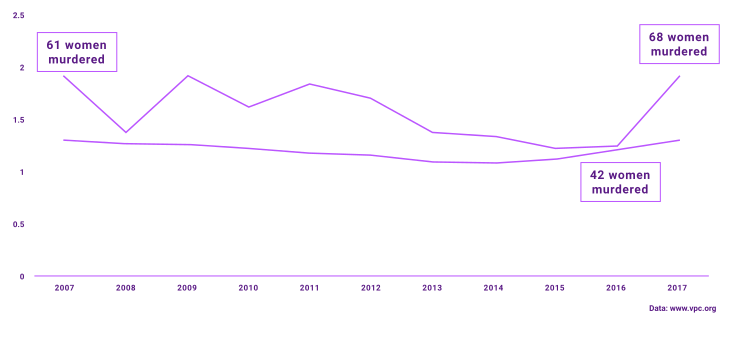 In 2017, Arizona had the seventh highest femicide rate in the nation.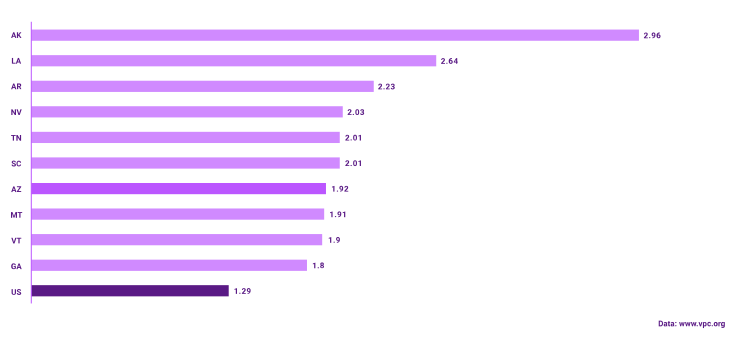 While the proportion of IPH in the US has stayed consistent over the last decade, the proportion of IPH in AZ has increased. This suggests that while other forms of homocide in AZ have decreased, IPH has not. This trend could indicate a need for improved IPH prevention interventions, such as those that we study at OGBV.